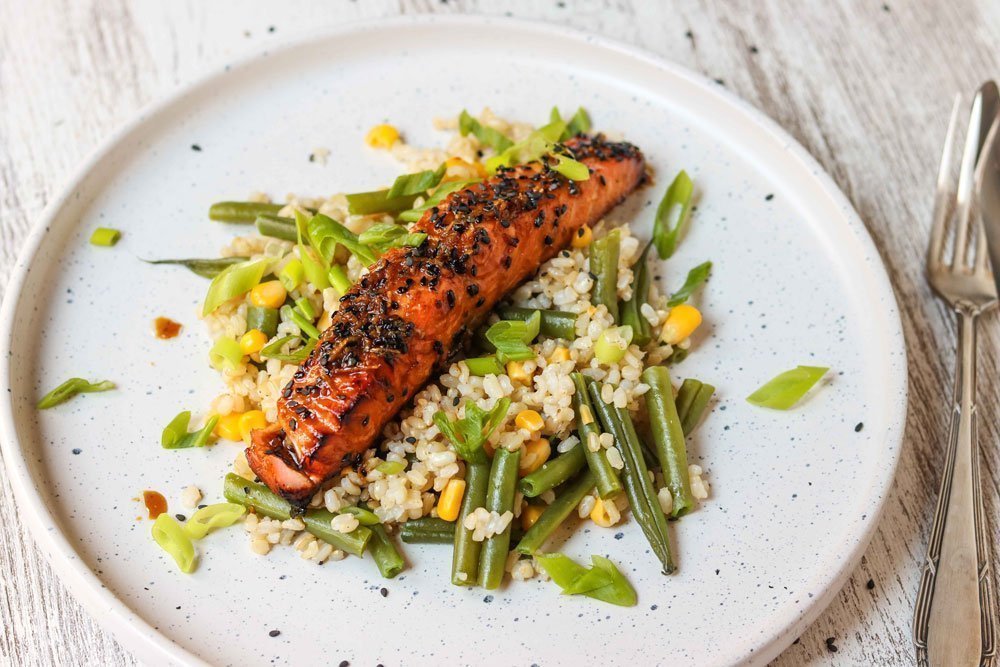 If you're a fan of salmon like me, give this recipe a shot. The teriyaki flavour is a nice change of pace from my usual salmon dish.
This serves: 4
Prep: 10 mins + 1 h marinade
Cook: 15 mins
Nutrition per serving:

507 kcals        19g Fats
40g Carbs      45g Protein
What you'll need:
4 salmon fillets (5 oz. / 150g each)
5 oz. (150g) green beans, frozen
1 cup (150g) sweetcorn
3.5 oz (100g) brown rice
2 tbsp. sesame seeds
1 tbsp. sesame oil
For the Sauce:
8 tbsp. soy sauce
3 tbsp. maple syrup
1 tbsp. lime juice
4 tbsp. grated ginger
2 garlic cloves, grated
What you need to do:
Make the marinade by mixing all the sauce ingredients together. Season with salt and pepper.
Cut the skin off the salmon then rinse, dry and marinate in the earlier prepared sauce for 1 hour.
In the meantime, cook the rice according to the instructions on the packaging. Add the green beans to the cooking rice 4 minutes before the end of cooking, then drain. Next add the sweetcorn and mix well.
Preheat the oven to 450F (230C). Place the salmon into an oven proof dish leaving the marinade aside. Bake for 8-10 minutes. 3 minutes before the end of baking, sprinkle with sesame seeds.
Transfer the marinade into a small saucepan and heat until it thickens, then mix in the sesame oil, take off the heat and set aside. 
To serve, divide the rice and salmon between plates, then drizzle with the teriyaki sauce.
Enjoy!