Simple Chili & Sweet Potato Fries Recipe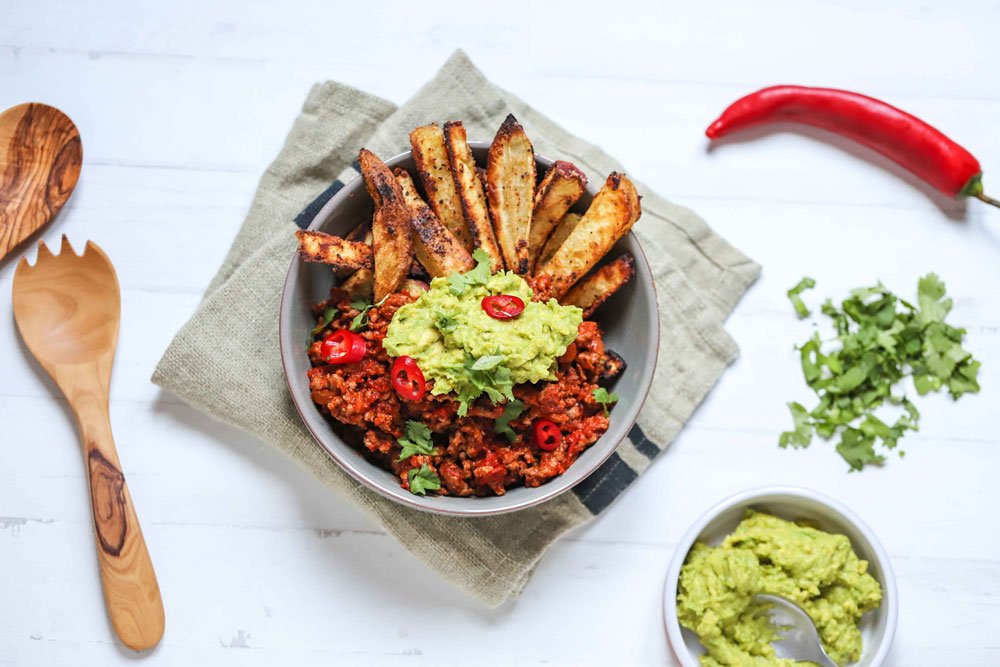 Here's an easy way to enjoy some chili and sweet potato fries.
This serves: 4
Prep: 10 mins
Cook: 40 mins
Nutrition per serving:
382 kcals        16g Fats
33g Carbs      29g Protein
What you'll need:
For the Potatoes:
3 medium sweet potatoes
2 tsp. garlic powder
1 tsp. onion powder
2 tbsp. buckwheat flour
1 tbsp. olive oil
Salt & pepper
For the Simple Chili:
1 lb. (450g) lean ground beef
1 tbsp. chilli flakes
1 can chopped tomatoes (14oz./400g)
6 fl. oz. (170ml) water
For the Garnish:
2 tbsp. coriander, chopped
1 avocado, mashed
What you need to do:
Heat the oven to 420F (215C).
Wash the potatoes and cut them into chips. Season the chopped potatoes with the garlic & onion powder, salt & pepper and sprinkle with buckwheat flour. Drizzle with olive oil and cover well by rubbing in.
Spread the potatoes on a baking tray, making sure they are not too close together. Bake in the oven for 40 mins, stirring halfway through.
In the meantime, heat a non-stick pan over a medium-high skillet and add the ground beef. Cook for about 2-3 mins and season with chilli flakes.
Add the chopped tomatoes, water and stir, reducing the heat to low. Simmer uncovered for about 20 mins, until most liquid evaporates.
To serve, divide the potatoes between plates and top with chilli, mashed avocado and sprinkle with coriander.
Enjoy!